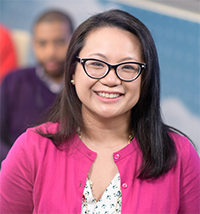 Titles and Organizations
Adjunct Professor, Cyber Security Engineering, College of Engineering and Computing
Contact Information
George Mason University, Fairfax
Research Hall
Personal Websites
Biography
Christine Alonzo-Yee is an adjunct professor of Cyber Security Engineering at George Mason University.  She has over 18 years of experience as a systems engineer and technology consulting across various technology and client sectors, including Defense, Intelligence, and Federal agencies. Her career began in military satellites, migrating to radar technologies, and then onto cybersecurity technologies focused on the protection of government networks.
Today, she is currently a Chief Engineer at Booz Allen Hamilton, focusing on the strategic investment, growth, and ideation of differentiated engineering technologies, such as resilient position, navigation, and timing. She manages a technically diverse portfolio and team of engineers and scientists that support various clients, such as Government Research and Development groups.
Alonzo-Yee's favorite aspects of both academic and industry engagements are meeting new, diverse talent, supporting and growing that talent, and seeing their innovation drive how we create and cultivate future business.
Degrees
B.S., Electrical Engineering, The Pennsylvania State University, 2002
M.S., Electrical and Computer Engineering, John Hopkins University, 2010